Signal Light Vest
Regular price
$44.95
Sale price
$49.99
Unit price
per
Tax included.

Enhance Your Safety and Visibility On The Road!
Are you a bike enthusiast looking for the best safety gear to help you navigate on the road with ease?
Remind drivers to keep their distance with a signal light vest that's guaranteed to enhance your visibility on the road. Whether you're a cyclist or a hiker who prefers a night adventure, this protective gear is sure to protect you from potential hazards. Navigate with safety using this innovative product, today! 
Improve your safety on the road using this Signal Light Vest! It's a remote-controlled LED signal light vest that contains reflective strips and four LED signals of stop, go, left turn and right turn, to remind drivers to keep their distance on the road. Change road lanes with ease by clipping the remote on your bike's handlebar and pressing the appropriate button to indicate which way you're headed or turning.
The Signal Light Vest is also perfect for joggers, skateboarders, scooter enthusiasts, and hikers who prefer a night adventure while maintaining their safety on dim roads.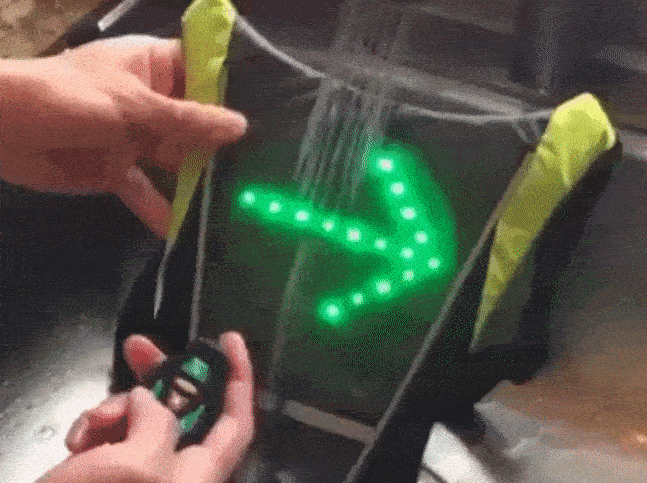 Other Benefits:
Enhances Your Visibility on The Road - Get the most out of your night adventure by equipping yourself with the Signal Light Vest that reminds drivers to keep their distance as you change lanes or make a turn on the road. Take advantage of its remote-controlled feature that allows you to clip the remote on your bike's handlebar for easy access and pressing of signal light buttons. 
Change Road Lanes With Ease- Whether you're doing a stop, go, right, or left turn, the Signal Light Vest allows the drivers behind you to slow down as soon as they see the flickering sign on your vest, excellent in allowing you to change road lanes with ease without constantly looking back. 
Comfortable Vest Wear - Move with ease with the vest's comfortable and snug-fit design that allows you to easily wear it like a backpack and adjust its straps to secure the vest on your body. This vest is waterproof and sturdy enough to withstand all types of weather. If you're a hiker who carries a backpack, simply strap the vest around your backpack so you can walk or hike safely even on dim roads. 
Perfect for Day/Night Adventures- If you're a cyclist, hiker, skateboarder or scooter enthusiast who prefers to hit the road at day or night, the Signal Light Vest will definitely be one of your must-have protective safety gear. This product is also perfect for kids who love to bike around the neighborhood to ensure their safety from fast running vehicles. 
The Signal Light Vest contains a dimension of 250 * 250 mm. It contains a high-quality waterproof fabric with good water resistance, excellent in using the product on all types of weather. Easily clip the remote control onto the bike handlebars, clothing, or backpack for convenient access and operation. Plus, you can even bring your mini essentials with you inside the vest's mesh pocket. What a convenient vest! 
Specifications:
Shell material: PC + ABS
Working hours: 12-15 hours
Charging time: 3 hours (with LED indicator)
Remote control battery: 2xCR2032 (built-in)
Control distance: 3m
Receiving battery: 4.2V, 650mAh lithium battery
Package: 1 LED indicator pack, 1 remote control, 1 remote control card holder, 4 cable ties, 1 USB cable, 1 copy of the user manual
How To Use:
Wear the vest and securely fasten it using the safety buckles. With fully adjustable straps, the vest can easily be clipped over your trusty backpack.

Turn on the switch found on the inner side of the vest.

Use the remote controller to assign the LED lights with the desired warning signal (turn left, turn right, stop, forward, standby). 
TODAY ONLY: 50% OFF !
Enhance your safety and visibility on the road! Grab your own Signal Light Vest and take advantage of our whopping 50% OFF plus FREE Shipping, today! This promo will expire soon, so hurry and get the product here.

Enhance Your Safety and Visibility on The Road!
Grab the Signal Light Vest here 👉

✅ High-Quality Safety Vest With LED Signal Lights
✅ Enhances Your Visibility On The Road
✅ Comfortable Vest Wear
✅ Perfect For Day and Night Adventures
✅ Perfect for Cyclist, Hikers, Skateboarders and Bike Enthusiasts
---