Multi-Purpose Vegetable Slicer
Regular price
$25.97
Sale price
$27.99
Unit price
per
Tax included.

Multi-Purpose Vegetable Slicer is designed perfectly to make tasks easier and quicker in your kitchen.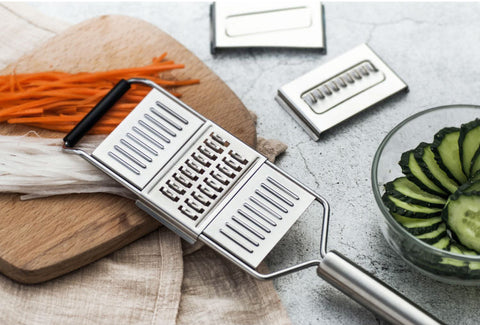 Feature:
SAVE YOU MORE TIME: Save time during the early morning rush hour, or just make your life easier in the kitchen. This slicer is perfect for everybody, there is no better time to cook healthy. Skip takeaways and cook some healthy delicious greens in minutes!
EAT HEALTHIER: Get perfect slier every single time that does not only tastes good and fresh but also looks appealing! Perfect to impress the family and friends when they come over!
SAVE MONEY: Eating healthy and organic food out all the time and can end up costing a fortune, now you can make your own at home for half the price.
RAZOR SHARP & INTERCHANGEABLE BLADES:Comes up with 3 interchangeable blades that let you cut 8 slices in just one swiping action! Shred various fruits and vegetables smoothly!
FOOD LICER Storage and Care: Just rinse the vegetable slicer cutter under running water. Never use a sponge to clean the mandolin slicer and don't dry with a towel.
HOW TO USE YOUR SLICER?
There are 3 interchangeable blades with the Slicer.
All the blades are changeable easily by hand.
If you are wanting to slice something small then put your vegetable/fruit on the safety guard, if not then hold it with your fingers far away from the blades.
Run your food over the blades and let the slicer do the hard work. You will find evenly sliced food every time!
USE TIPS
Best suitable to cut long vegetables such as cucumber and carrot, in shorter lengths before slicing use safety holder to have more control and safety.
While Using this slicer, push the food downward towards the blade rather than pulling towards you because it is 8x faster than other slicers.
For the Heavy Slicing, don't forget to use a bowl inside the  Slicer pro.
EASY TO CLEAN
Cleanup our slicer is very simple. Just remove the blade and wash them under the running water with a cleaning brush.
We suggest cleaning using a brush to properly remove residue left on the cutter.
---