Floppy Fishy
Regular price
$29.99
Sale price
$55.99
Unit price
per
Tax included.

What are we about?
Take a look at why the Floppy Fishy is your cat's new favorite toy!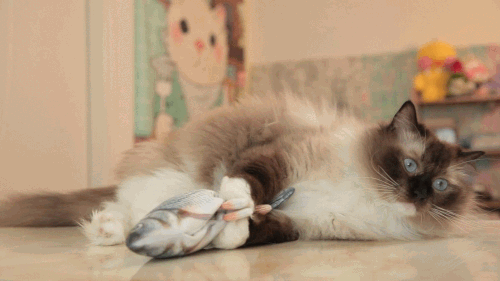 REALISTIC Fish Simulation
The Floppy Fishy not only looks like a real fish, it acts like a real fish as well. It will flop when touched and stay still when left alone.
REFILLABLE Catnip Pouch
The Floppy Fishy not only provides a physical stimulus, every fish includes a refillable pouch of catnip.
EASILY Chargeable by USB
No need for batteries, a simple charge can last a few days of playtime. Included in packaging.
THE FUN NEVER ENDS
Always rechargeable, refillable catnip, and made with high-quality cotton, The Floppy Fishy is here to stay. Interactive and fun, give your four-legged friends the toy of their dreams. 
GET THE Energy Out!
The Floppy Fishy is an amazing way for your cats to release energy! Make playtime more enjoyable by simulating their fish hunting instincts!
INCREMENTAL Flopping Speed
The Floppy Fishy will adjust its flopping slower or faster according to the motion around it. If it detects that it's being played with, it'll flop faster. If it detects no motion, it'll slow down and eventually stop.
HIGH-QUALITY Materials
Made with soft cotton, washable, and bite-resistant fibers.
---