Chick Laser Cat Toy
Regular price
$29.99
$0.00
Unit price
per
Tax included.

😻Your cat needs a cat toy like this!💥
🎁Cats Go Truly Crazy For This Cat Toy! 🧡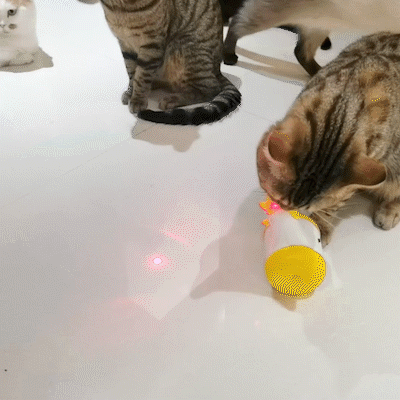 FEATURES
🐈Multifunctional Toy: This product is a multifunctional electric cat toy, which integrates infrared light, squeaking, cat call, self-weight balance movement, forward and backward swinging and other functions in one, which can effectively attract cats' interest in playing.
🐈Interactive Infrared: The product has an automatic sensor switch function. When the cat touches the toy, it will swing back and forth. The head of the toy will emit infrared light, to attract the cat's attention, and it will create a slight chick sound. When the toy stops swinging, the infrared cat light will stop synchronously.
🐈Cat Calling Device: This toy has an independent cat calling device switch. When it is turned on, the toy will create a special sound, to call nearby cats, which is practical. If your cat is naughty and leaves your sight area, you can use this function to call the cat back.
🐈Self-weight Balance Movement Function: This product adopts a self-weight balance system, which will move by itself when being touched. Also there is no electric drive required.
🐈Easy To Use: This toy is made of environmentally friendly and healthy ABS, strong and durable, and will not be damaged by pets. It is easy to use and durable to use for a long time.
SPECIFICATIONS
Material: ABS
Color: Yellow, Orange, Lake Blue, Blue
Power Supply: USB Charging
Weight: 220g / 0.48lb
Size: 
PACKAGE INCLUDED
---