ULTRASONIC SKIN SCRUBBER
Regular price
$55.00
$0.00
Unit price
per
Tax included.

Deep skin cleansing.
Remove Dirt.
Make Skin Tighten And Smooth. 
Remove Blackhead.
Lifting effect.
Remove Wrinkles, Firming, and Lifting Your Skin!
WHAT IS ULTRASONIC SKIN SCRUBBER?
This is an innovative beauty product with a 3 in 1 function that removes oil, dirt, clogged pores, and dead cells, and fills your favorite skincare products. Our stainless steel spatula uses ultrasound to remove excess skin and oil, while the flat end improves microcirculation and tightens pores.
ULTRASONIC SKIN SCRUBBER SOLVE MULTIPLE SKIN PROBLEMS
Clogged pores
Excess oil
Blackheads and whiteheads
Dry, flaky skin
Dull skin tone
Uneven texture
Polluted skin

HOW DOES IT WORK?

ULTRASONIC SKIN SCRUBBER feature vibrations of up to 30,000 Hz, which basically removes impurities from the pores as it exfoliates the surface of your skin. It's also designed to make your favorite skincare serums penetrate your skin more deeply for maximum absorption and effectiveness.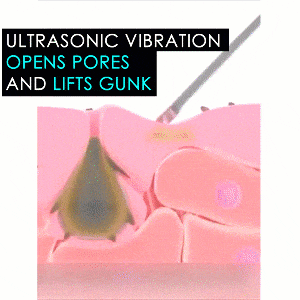 SAVE YOUR MONEY! 
BEAUTY SALONS AND SPA PROCEDURES TAKE TOO MUCH TIME AND MONEY!
It's unnecessary to spend hundreds or even thousands of dollars on facials, salons, and painful peeling treatments that lead to inflamed or reddish skin.
Indulge yourself with the skin cleansing without leaving your home.

HOW TO USE?
Dampen your face, then press

 

"Ultrasonic", and clean your face with facial cleanser.
Apply cleaning toner on the face, press

 

"Cleansing"

 

to cleanse the skin.
Apply moisturizer on face, press

 

"Moisturizing"

 

yo absorb skin nutrition.
Press

 

"Lifting"

 

and move the device from the lower part to the upper part.
THE #1 WAY TO KEEP YOUR FACE CLEAN AND FRESH!

3 DIFFERENT MODES
Cleansing Mode

 

- Easily deep clean, exfoliate and extract your dirt from your pores.
Moisturizing Mode

 

- Moisturizing mode allows you to easily pamper, hydrate, and infuse serums your skin.
Lifting Mode

 

- The lifting mode tightens your skin, enhances facial contour, reduces wrinkles, and promotes blood circulation.
---