Automatic Shoe Cover Dispenser
Regular price
$111.00
$0.00
Unit price
per
Tax included.

Automatic shoe cover dispenser in ABS. It mechanically dispenses shoe covers as you step into it. Requires no electricity. Support booties PE or TNT shoe covers. Easy to load and clean

Automatic shoe cover dispenser will easily and efficiently cover the shoes, save your valuable time. It is made of PPT ABS safe to use and environmentally friendly.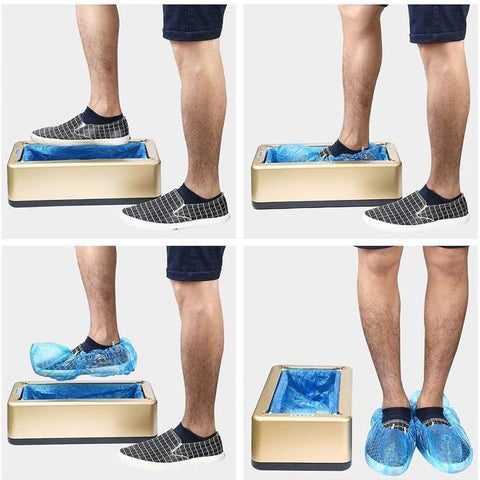 Automatic shoe cover dispenser can keep your floor clean and neat, so you need not clean every day. You can use it at the doorway. Convenient to use.
Particularly suited for hospitals, clinics, operating rooms, cleanrooms, dust rooms, laboratories, pharmaceutical, cosmetic and food industries and in any place where certain precautions are required of hygiene
Shoe cover dispenser works on a mechanical spring, it will automatically release a bootie around your shoe when you stand in the center of the dispenser. So the shoe cover dispenser not only saves electricity but also environmentally friendly.

High quality perfect for office, home, shop that needs the disposable shoe cover dispenser. The highlight is the thickened spring and the stable hooks which increased durability and stability. 
 NO MORE BACTERIA IN YOUR HOME
☀ Use to protect office floors and carpets where operatives enter from dirty areas.
☀ Protects carpets and handy to put in the boot of the car to protect Car Flooring.
☀ A safe way for visitors to cover their shoes without a struggle
☀ Hands-free, automatic shoe cover dispenser will easily and efficiently cover the shoves, save your valuable time
☀ Made of PPT+ABS safe to use and environmentally friendly.
☀ Automatically releases a bootie around your shoe when you stand up the center of the dispenser.
☀ Keep your floor clean and neat
---