Shirt Organizer
Regular price
$19.99
$0.00
Unit price
per
Tax included.

DON'T GET LOST IN THE MESS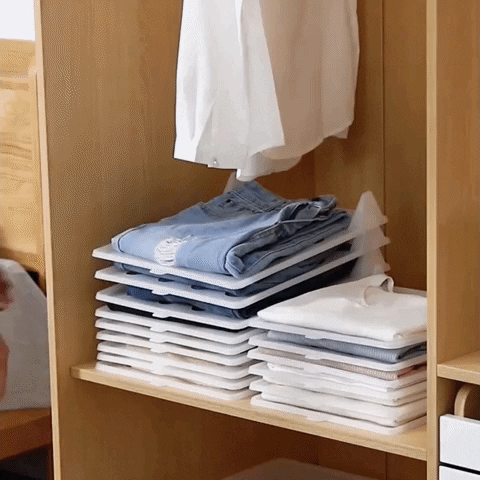 While you can organize your closet using boxes and drawers, you cannot achieve the level of attractiveness experts do without using the anti-wrinkle clothes storage rack. It helps you to easily separate and classify clothes making your wardrobe look neat and tidy.
It helps you turn your messy piles of clothes into well-arranged stacks that you can organize in your closet and maximize space. You can stack up more shirts in your closet compared to when you hang them on a hanger. This storage rack would come in handy, especially when you have a small closet space to work with.
The anti-wrinkle clothes storage rack supports the top and the bottom of your carefully folded shirt, preventing it from wrinkling. It comes with a folding board that is designed with ventilation holes that help you reduce the static cling and wrinkles giving them a clean fold. This folding board helps you fold your clothes fast. It is lightweight so you can easily lift and make your folding process efficient.
This storage rack helps you to access your folded shirts easily without destroying other folded ones. You can lift the clothing trays and pull out the one you want. You can also spread out and stack them back up with ease.
FEATURES
Not only is the anti-wrinkle clothes storage rack used to keep your clothes organized but is also used to sort store and stack important documents. You can also use it to organize things in your suitcase when traveling.
This storage rack is made of high-quality material that makes it tough and durable. It does not break easily when it falls or sag in the middle when heavy clothing is put on it. You can use it for a very long time.
The anti-wrinkle clothes storage rack comes with an extension on the sides that neatly fits into the next one that is placed on it. The ability to stack them up helps you put away many clothes while occupying less space in your closet.
This storage rack is specially designed with a hollow bottom to help your clothes aerate. It has a non-slip bottom to keep it in place and not slide off the cabinet as you pick your clothes. It also has round corners that are kind to your hands. You can lift it without hurting your fingers.
---