Interactive Cat Automatic Rotating Mouse Pounce Toy - Purple
Regular price
$69.99
Sale price
$139.99
Unit price
per
Tax included.

 Want To Keep Your Cat Excited?
This Automatic Cat Toy Mimics The Natural Hide-And-Seek Movement To Get Your Cat's Attention!
 One Of The Best Toys To Keep Your Cat In Shape And Engaged.
 Super Durable - Built to Last For A Long Time!
 Watch Your Curious Cat Try To Capture The Mouse Before It Hides In The Cheese!
 4 Variable Speed Settings (Slow, Medium, Fast, Random) To Suit Every Cat's Play Habits.
 Automatic 'Turn Off' Function
 Pro-Tip: Some Cats Get Very Upset About Their Owner Leaving The Home. This Toy Is A Great Solution... Turn It On Just Before Stepping Out Of The Door.
 Uses 3 x AA batteries (not included)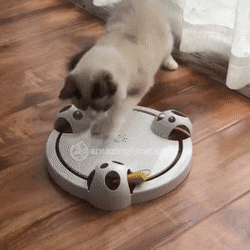 ---