Fast Neck Pain Relief - Cervical Neck Traction Device
Regular price
$33.00
Sale price
$47.00
Unit price
per
Tax included.



Relieve Muscle Joint, Disc & Nerve Pressure

Simply Inflate & Get Professional Neck Traction with the #1 Neck Traction Device at the comfort of your home.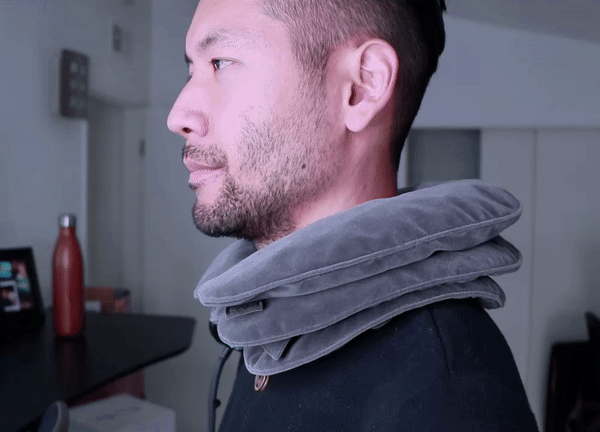 The Neck Comfort Inflatable Neck Traction device decompresses the cervical spine, helping to relieve muscle, joint, disc & nerve pressure. It is designed to support the neck, elevate jawbone and relieve tension in muscles. 
FAST NECK PAIN RELIEF - Provides fast neck pain relief, and faster recovery from neck injuries, without the need for medications or surgery. Relieves neck pain for anyone suffering from neck arthritis, herniated/bulging disc in the neck, neck strains, and cervical muscle spasms.
INCREASES BLOOD CIRCULATION - The cervical traction device helps by increasing blood circulation to the structures of the cervical spine, helping to oxygenate muscles, nerves, tendons, thus decreasing pain and promoting relaxation.
CORRECTS NECK POSTURE - Keeps your neck in a perfect posture allowing it to heal and prevent further neck injury and pain. No longer go to a physical therapist for neck traction; you can do neck traction at home just as effectively and safely.
It does feel as though your neck is being gently stretched upwards and this is a very pleasant sensation for whiplash sufferers whose default state is that of muscle spasm, discomfort, and pain!
- Chris, US 
SUPPORT FOR:
Neck Arthritis
Neck, head or shoulder pain
Pinched nerves
Herniated, compressed or bulged discs
Restoration of a natural cervical curve
Cervical neck spasms
Back & spinal decompression 
SO, WHY NECK COMFORT ?
INFLATABLE FOR PERFECT & EASY TRACTION: It is easily adjustable so you can control the amount of air for a comfortable spinal stretch to relax your neck and shoulders. 
NECK PAIN THERAPY THROUGH IMPROVED POSTURE: This device supports the neck while elevating the jawbone. This creates optimal spine alignment, which relieves tension in your nerves. Many people experience back, spine, and shoulder pain relief and spasm relief.
SMALL ENOUGH TO TAKE ANYWHERE: No matter where you are on stiff days, experience spinal traction at home or on the go. It's soft, lightweight, and small enough to fit in your suitcase, purse, car, or backpack. 
CLICK ⬆"

ADD TO CART

"⬆ BUTTON TO SECURE YOURS!
---