Ear Cuff Crawler Piercing Hook Earring (1 pair)
Regular price
$19.99
Sale price
$23.99
Unit price
per
Tax included.

Just show your own style and make you bling by wearing one ear of this unique design ear cuff crawler earrings
This is the 2020 hottest new earring style, if your jewelry collection still without these unique Ear Cuffs Crawler, you will receive countless compliments after wear it.
This Ear Cuffs Piercing Earrings for Women is designed to wear only one ear, which is different from traditional earrings. But you could order two for both ears if you like. Please be note that your ear have to be pierced to wear this earring. The piercing post has been fixed on your ear, and then hook your ear bones with a hook, which is very stable.
Features of the Ear Cuff Climber Earrings:
Delicate Ear Wrap Design: unique design ear crawler cuff jewelry feature gold needle around the cartilage ear bone clip diagonal, charms and a little statement but gorgeous and classic, grasp everyone's eyes in the crowd. Make a glamorous statement guaranteed to impress with this uniquely stunning threader earrings, featuring one piece that gracefully curves around the cartilage.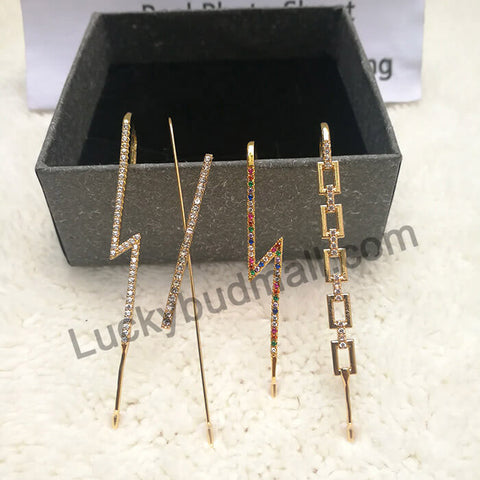 Comfortable and Not Allergic: Made of premium gold-plated-copper, will not fade, durable and can be used for a long time. These hypoallergenic earrings are suitable for women sensitive ears, because the ear wrap's surface has high polished finish, smooth and comfortable to wear without hurting the ears. Nobody will miss it and you will received a great deal of compliments.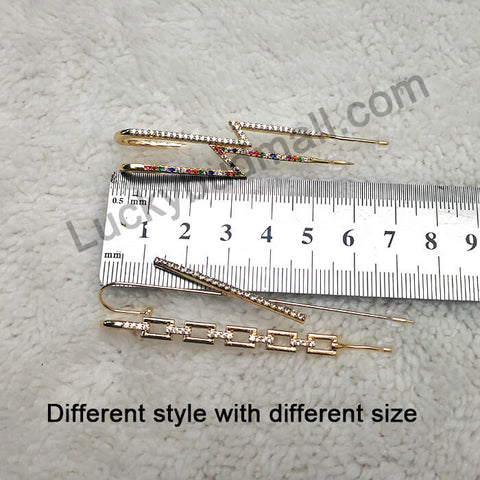 Easy to Match: These chic cute crawler earrings perfect match your most cloth, from your day-to-day office attire, to your evening wear, from your casual workout clothes, to jeans and a T-shirt! But also can be matched with various occasion. Such as Halloween, Christmas' Day, Mother's Day, Thanksgiving Day, Birthday, Wedding, Party, Anniversary, Prom and Casual Days.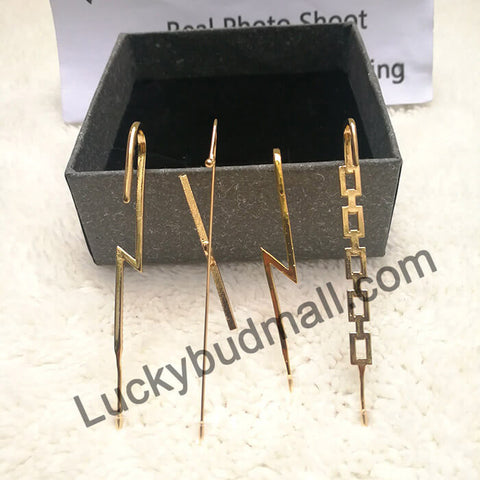 Unique Gift Ideas: These hook earrings for women are very dainty and elegant. Give this sparkling Cubic Zirconia earrings as a unique present to your loved ones, like lover girlfriend, wife, fiancee, mother, daughter, your friend, or even yourself for valentine's day, mother's day, Christmas, wedding and so on.
Package Including:
1pc x Ear Cuff Climber Earring
1pc x Earring Packing Box
Customer Questions & Answers:
1) Question: Does the ear have to be pierced to wear these?  
Answer: Yes, it have to.
2) Question: Can the hooks of these ear crawler earrings hang stably on my ears?
Answer: Of course, first the piercing post has been fixed on your ear, and then hook your ear bones with a hook, which is very stable.
3) Question: Will this ear crawlers earring fade after wearing it a few times?
Answer: No it won't. Our metal part of this ear crawler hoop earring is copper, not an alloy, and we use a color-preserving electroplating process, so that this earring can be worn for a long time.
4) Question: My ears are easily allergic, can I wear these crawler earrings?
Answer: Yes you can. The metal part of our ear crawler hoop earrings is copper, Nickel free, protect your ear from allergy. 
5) Question: Is this ear cuff lightweight? 
Answer: Yes, this ear cuff crawler earring is lightweight. Don't worry it will burden your ears.
6) Question: Is this ear cuff for women package for 1 pc?
Answer: Yes this ear cuff crawler hook earring hypoallergenic piercing is package only 1pc earring . It is designed to wear for only one ear. But you could order two for both ears if you like.
---