Quiet Automatic Electronic Water Fountain For Cat And Dog - 2.4L
Regular price
$69.99
Sale price
$139.99
Unit price
per
Tax included.

Give Your Cat That Constant Stream Of Water They Always Want
Does your cat hate drinking out of a normal water bowl? keeping your Kitty happy and hydrated all day long with our Cat Drinking Water Fountain Bowl! Cats naturally prefer to drink flowing water over a traditional water bowl, take advantage of our 30-Day Money-Back Guarantee and try our Cat Drinking Fountain today!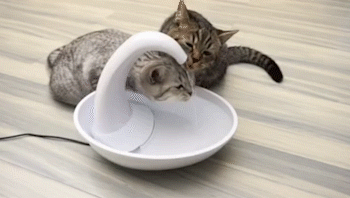 Benefits
No more Sink Sipping: Keep your cat hydrated without the constant meowing for you to turn the sink on,  
Veterinarian Recommended: Cats chose not to drink water when they don't have access to flowing water, our Cat Drinking Fountain is recommended by the vets to keep cats healthy.  
No More Dehydration: Dehydrated cats can get angry and vicious, keep your cat happy and healthy!
Reduce Strain: Bending down to drink from a traditional bowl can cause back and neck strain in old and young cats.
East to wash: Easily remove the pump and throw them in the dishwasher or hand wash for a perfect clean.
Product Specifications:
Capacity: 2.34L
12V water pump
Power Supply: USB port
Size: 12.99in x 8.66in x 10.63in 
Package Content
1x Water Fountain
1x Filter 
1x Instruction Manual 
1x Water Pump
1x Stopper 
1x Plug
---